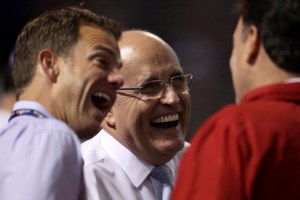 If Carl Paladino stands to tamp Republican turnout, Rudy Giuliani hasn't seen it.
"Not what I've detected," said Giuliani, on a conference call with attorney general candidate Dan Donovan this morning.
"I detect a tremendous amount of enthusiasm for a lot of our Republican candidates," said Giuliani, who has been stumping for candidates across the state. "Can't say for all of them. But for a lot of them, particularly for Dan and for Harry Wilson. I think both of them have a tremendous grassroots support."
Giuliani has been critical of some of Paladino's comments, and as of late September hadn't decided whether to vote for him.
"Mr. Paladino has not asked me for my support, so maybe he doesn't want it," Giuliani said with a laugh. "But he's never asked for it, so I'm sort of out of that one."
Asked if he has any idea why Paladino hasn't been in touch–given that Giuliani still carries considerable cachet among Republicans–the former mayor said he wasn't sure.
"I don't know. As far as I'm concerned, you don't have to go up and ask him. But he hasn't asked for it," he said.