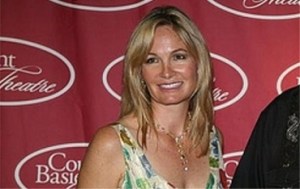 Diane Gooch, the millionaire publisher who suffered a surprise primary loss in her 6th District Congressional bid has re-surfaced in an anti-Frank Pallone ad in support of a brain injury foundation.
The ad attacks U.S. Rep. Pallone, the Democratic incumbent, for refusing to move a non-binding resolution supporting efforts at identifying and treating brain injuries through the Energy and Commerce Committee's subcommittee on health.
"Over 100 congressmen sponsored a plan to prevent, identify and treat these injuries," Gooch said in the 30 second spot. "But Frank Pallone is preventing this bill from coming to a vote."
The ad, which begins running on cable providers in the 6th District today, was partially paid for by Gooch on behalf of Voice of My Child, a 501 (C) (4) founded by Patrick Donohue, whose daughter Sarah Jane suffered a traumatic brain injury days after her birth. The group is affiliated with the Sarah Jane Brain Foundation, which was founded by Donohue to raise money and awareness for pediatric brain injuries.
The ad-buy will total over $100,000, Donohue said, though he would not provide a specific figure or the amount that Gooch has contributed.
For his part, Pallone said he supports the measure and denies it is being blocked.
"I am in full support of the goal of the House resolution and I agree with its basic tenets. The resolution, authored and sponsored by Congressman G.K. Butterfield of North Carolina, is not being blocked by anyone," Pallone said in a statement. "Congressman Butterfield is continuing to work on the specifics of the resolution with the medical community and all other parties involved in the issue to gain agreement and to move it forward in a bipartisan fashion."
Sources close to Pallone in Washington say it is Republicans that have requested the changes in the legislation language and stalled the bill until they are made.
But Donohue disputes that assertion saying members of the committee staff have attempted to gut the resolution and have stalled its progress while weaker language is negotiated. He was originally told that Republican members of the committee had requested the changes, but says when he asked for names, he was stonewalled.
"I've met Pallone three times on this and each time he says we are looking at it and the bottom line is he doesn't feel he needs to do anything with it," he said.
For her part, Gooch said she jumped on board when Donohue presented her with a host of shocking brain injury statistics. That Pallone was the target was just and added motivation, she said.
It is just something I found shocking that this wasn't done already and I really feel this is something that will help our country in so many ways," she said, adding that in addition to the physical trauma, the monetary and social costs of brain injuries are enormous. "It was just another thing that upset me about Frank Pallone and why we need to get rid of him."
Gooch was defeated by Tea Party Republican Anna Little in a primary many thought the publisher of Two River Times had in the bag. Gooch has since come out an endorsed Little, the Mayor of Highlands Boro, who has become the face of the Tea Party in New Jersey.
A recent Monmouth University poll showed Pallone up by 12 point in the district, while an internal poll commissioned and paid for by Little shows her down by just 1 point.