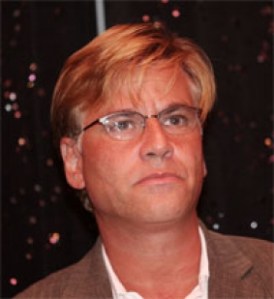 You're heading into a good day, Mr. Sorkin.
Your Social Network nabbed the weekend box office top spot, taking in some $23 million and qualifying you for some serious Oscar buzz. Why aren't we congratulating director David Fincher or star Jesse Eisenberg? We figure that, as a writer, you need to hear from someone who won't throw in jokes about people "liking" your movie, right now.
We knew you were headed for great things back when The West Wing was being praised for being "truer" than real life. We can honestly say that, before your show, we never thought about how quickly people at the White House talk. You're probably right! It's probably very quickly. It was also amazing how your fictional Keith Olbermann was actually less bombastic than the real one.
Congratulations again, you deserve it. We hope Ms. Dowd takes this opportunity to pen another column in your style.
Love,
The Observer