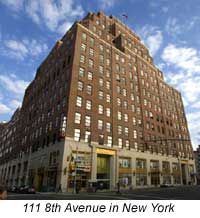 The Post is reporting that Google wants to purchase 111 Eighth Avenue, one of the biggest properties on the Manhattan market, for $2 billion.
This 18-story behemoth totals 2.9 million square feet, so Google's rumored bid works outs to $690 per square foot.
Google already rents 550,000 square feet at the site, which it shares with other big brands like Nike.
The building would be perfect for Google, because as a former Port Authority site, it has "numerous back-up generators, lots of electrical power, antennas, fiber optics and high-tech facilities."
Google will have to compete with a horde of other interested parties including foreign sheiks and local blue bloods.
But considering that the search giant is sitting on tens of billions in cash, it can probably compete with the best of them.
Buzzfeed's Jon Steinberg expressed his doubts about the purchase, but indicated it would be good for Silicon Alley in the long run.
"It's doubtful Google buys 111 8th ave," he tweeted this morning. "But would be awesome for NYC. Will initially absorb more engineers but then start throwing [them] off."