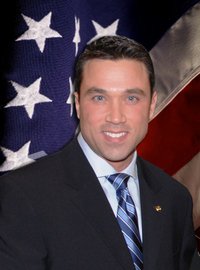 Yesterday, National Public Radio commentator Juan Williams was fired for appearing on Bill O'Reilly's Fox show and saying, "When I get on the plane, I got to tell you, if I see people who are in Muslim garb and I think, you know, they are identifying themselves first and foremost as Muslims, I get worried. I get nervous."
Today, Staten Island G.O.P congressional hopeful Michael Grimm slammed the station is calling for the de-funding of NPR for firing Williams.
"It is time NPR did what all other radio stations have to do – compete on its own in the free market without the support of our government and our tax dollars. It is not acceptable that our tax dollars have been wasted on failed legislation, such as the stimulus package which has created no jobs. And it is also not acceptable that our tax dollars are being wasted on a free speech-crushing organizations such as NPR."
He continued:
Juan Williams was fired for being honest and saying something many Americans feel. Political correctness has derailed our ability to have a candid conversation about Islamic terrorism. Juan Williams was exercising his 1st Amendment right of free speech. William's statements may not have been politically correct, but they were honest. This controversy epitomizes the challenges we face as a nation in fighting terrorism while avoiding stereotyping and racial profiling of Muslims. This is an American challenge in the 21st century, and we should embrace all viewpoints and appreciate those who are willing to speak openly and frankly to advance this dialogue.
Grimm is a favorite of the local Tea Partiers, having been endorsed in the primary by Sarah Palin and Rudy Giuliani. Grimm is echoing the call of many Tea Partiers, including Palin, and South Carolina's Senator Jim DeMint. G.O.P Virginia Rep. Eric Cantor said today that de-funding would be on the table if the Republicans take control of the House. Long Island Congressman Pete King has also supported de-funding.
Grimm's district, currently held by Democrat Mike McMahon, is a classic swing district, so it is somewhat odd to see Grimm take such a hard-right approach on this issue. This race has been receiving a lot of attention in recent day, and the G.O.P has poured close to $100,000 in it, but I have not seen any Congressional prognosticators who say it is getting closer.