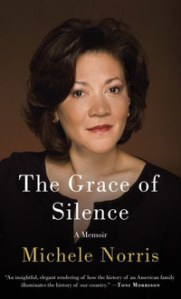 In light of the fact that Michelle Norris has appeared on four NPR programs to promote her memoir, NPR Ombudsman Alicia Shepard looked into whether or not there's a conflict of interest in the host of All Things Considered promoting her book, The Grace of Silence, so frequently on the station.
It turns out there might have been. With her four promotions, "NPR librarians" confirm that Ms. Norris is now their most-plugged author. Not that she doesn't deserve the attention, she's received a good amount elsewhere — though some have decried that too.
Ms. Shepard took the opportunity to examine past frequent visits by non-NPR authors on a no-where-near complete list. They include:
Adam Gopnik / Paris to the Moon / TOTN, WESAT, ME / 2000-2001
Matt Weiland / State by State / NN, WATC, TOTN / 2008
Lee Thomas / Turning White / TMM, NN, BPP / 2007
Atul Gawande / Complications / WESAT, TOTN, Tavis Smiley / 2002-2003
Steven Levitt / Freakonomics / NN, WESAT / 2005
Joseph Sebarenzi / God Sleeps in Rwanda / TMM, WATC / 2009
Nina Jablonski / Skin: A Natural History / WESAT, NN / 2006-2007
Missing from the list are, off the top of our heads, Jonathan Safran Foer, Michael Chabon, Nick Hornby and Sloane Crosley, and many, many other authors who fit right in with the NPR niche. Also missing — and entwined in the NPR promotion machine themselves — are Davids Rakoff and Sedaris, who are both currently filling the airwaves with their fiendish hawkerism.
Earlier: NPR: Four out of Five NPR Listeners Would Drive Hybrids