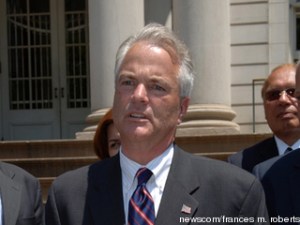 Staten Island Republican congressional candidate Mike Grimm is out with a series of statements over the last two days that seeks to remind voters of his opponent Mike McMahon's "Jewish money" flap from earlier in the campaign.
The statements come as the tone of the race has grown increasingly sharp over the last several days. Starting Friday afternoon, the McMahon campaign began sending out a series of releases that hit Grimm for appearing not to remember who he voted for, for calling for a moratorium on the capital gains tax and that called on Grimm to repudiate Carl Paladino's anti-gay remarks.
"McMahon is making false accusations, again, about Michael Grimm's campaign because he knows that the only way he can win is by lying and smearing," says Grimm campaign spokesman Steven Stites in one. "This is especially rich from McMahon, who is currently under FEC investigation for despicably segregating Grimm's Jewish contributors into a list McMahon's campaign called Grimm's 'Jewish Money.'"
And in response to McMahon's raising Paladino's statements, Stites said, "Congressman McMahon's position is ironic, since his character has been called into question a number of times and his actions have been seen as offensive. Congressman McMahon has yet to disclose and disavow the person in his campaign that created his offensive, anti-Semitic 'Jewish money' list."
In July, a spokeswoman for the McMahon campaign gave The Politicker a file that the campaign had compiled of Jewish donors to the Grimm campaign. McMahon quickly fired the spokeswoman, but Grimm says that McMahon has failed to say who ordered the creation of the file.
Now the McMahon campaign has even begun a series entitled "Grimm's Fairy Tales," which take apart Grimm's biography. Grimm is a former Marine, a former FBI agent, a 9/11 first responder and a small businessman who has been running mainly on the strength of his back story. The first "Fairy Tale" called "Once Upon A Time I Was A Sucessful Small Business Owner," points that Grimm's oil business was listed as "not in good standing" by the Texas comptroller's office and that his health food restaurant was charged with a number of violations by the city's Department of Health. The second release hits Grimm for taking campaign contributions from LLCs, which is against Federal Election Commission rules.
The tone of the race shifted after both candidates trotted out endorsements from two long-retired politicos late last week–former Mayor Ed Koch for McMahon, and former President George H.W. Bush for Grimm.
Most political prognisticators think that McMahon is fairly safe, despite representing a district that voted for John McCain in 2008. Usually when a campaign goes negative they are witnessing polls tighten. Lauren Amendolara, a spokeswoman for McMahon, denied that this was the case.
"Like any campaign three weeks before an election we are getting out the message about the strengths of our candidate and the truths about our opponent. Because he is a challenger, the press has been unwilling to ask Michael Grimm about any of his outrageous claims. He says he is for accountability in office, yet he has voted just 5 times in the last 31 opportunities and he cannot remember who he voted for last month in the gubernatorial primary. He calls Congressman McMahon a failure when the Congressman was not only a successful businessman and family man, but also a succesful leader in the community. Yet, our opponent has only experienced business failure after business failure. Until he announced his candidacy in Congress, no one in Staten Island and Brooklyn had ever heard of Michael Grimm. Our press releases are simply an attempt to prompt the media to ask certain questions, any perception to the contrary is just another Grimm Fairy Tale."
dfreedlander@observer.com