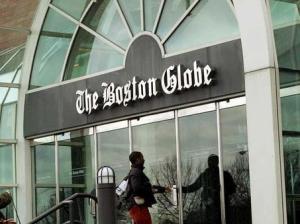 A year after The New York Times Company put The Boston Globe on the market only to yank it back into its fold, a group of investors says it has put together an offer to purchase New England's largest newspaper. The news comes from The Globe, the very newspaper with its ownership at stake.
Leading the effort is Adam Kushner, a greeting card entrepreneur, and a group of potential buyers called the 2100 Trust. The price was not revealed, but if the sale were to go through the group would be overseeing The Boston Globe, Boston.com, and the Worcester Telegraph & Gazette. The group explained its motives in a press release:
The Boston Globe has been a pillar in the city, the Commonwealth and the region for more than a century. We believe that The Boston Globe's strongest days can be ahead. It is essential that the Globe be positioned for its next 100 years.
New York Times Co. purchased the Beantown paper in 1993 for $1.3 billion. Despite soliciting offers for the sale of the paper a year ago, company spokesperson Abbe Serphos was dismissive of the 2100 Trust's effort to take control of the off-the-market media property. "We do not comment on rumors of acquisitions or divestitures," Serphos said. "The Boston Globe is an important part of The New York Times Company. The Globe has made excellent progress and is on solid financial footing.
Christopher Meyer, current publisher of The Globe, said New York Times Co. has not yet been approached by Kushner or any other 2100 Trust representative about the speculated proposal.