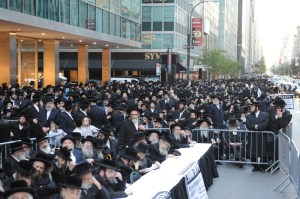 O.K., so it was only about 5,000 Orthodox Jews. Still, that's a lot of black hats, and they are none too happy with the art-dealing developer.
Rosen wants to build a $600 million luxury hotel on a sacred burial site in Jaffa, the ancient Israeli port that is now a suburb of Tel Aviv. The only problem is, Rosen didn't know it was sacred ground until he started digging and discovered the remains back in July. That is when the protests began.
The Observer was on hand for the most recent
one in August, and the rabbis have vowed to continue until Rosen stops building or at least shows proper regard for the site. His company continues to insist that is what it's doing, working with all the proper authorities in Israel, but the rabbis remain enraged.
"RFR's callous disregard for the most basic of human decencies – respecting a cemetery – should give pause to investors and future partners. These protests will be expanding and won't be stopping anytime soon," a spokesman for the protestors told The Observer. Yesterday's protestors were bused in from the Chasidic hotbeds of Williamsburg, Boro Park, Midwood and Monsey, and they blocked up Park Avenue for two hours during rush hour.
After three protests, Rosen shows no signs of slowing down. Yet he might want to think twice. If this keeps up, next time the rebbes might show up with their golem. Then he'll be in for some real trouble.