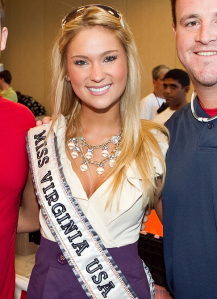 Charles Schwab's four-day Impact Conference, which ended this morning, describes itself as "the premier event" for registered investment advisors. That means it's the type of place where Hank Paulson will give a keynote presentation to balding financial advisors "of a certain age," with "a bunch of paunchy middle-aged men roaming the expo hall," as Registered Rep magazine ("The Source for Investment Professionals") puts it. But according to a post written by that magazine's editor, David Geracioti, who describes himself in a brief bio as a "devotee of the Austrian School of Economics leading lights Ludwig von Mises and Friedrich von Hayek," there was an exception to the paunchy gentlemen.
One New York-based mutual fund manager, he reports, "hired a beauty queen to stand by him at his booth."
Mr. Geracioti thinks the fund manager said she was a "Miss Virginia or something." Over nighttime drinks, the fund manager said he had asked her "to please wear something cleavage bearing." Mr. Geracioti was not offended by this. "I nodded approvingly, nah, no harm in that," he writes. Indeed, he says, the next day she wore "a white blouse, top few buttons undone, gamely answering male advisors' questions about the fund."
"It's a tough world out there," the post ends, "and you have to get an edge where you can, no?" This has been a good few days for old-time misogyny.
On a brighter note, for more on Mr. Hayek, the economist Mr. Geracioti enjoys, see here.