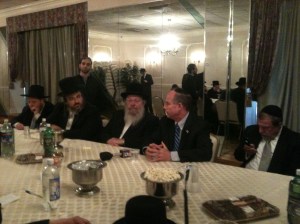 Dan Donovan met with leaders of the Hasidic community yesterday and blasted out a release afterwards saying that he received an endorsement from the meetings.
"These community leaders decided that Donovan represents the best choice for New York State Attorney General," the campaign wrote.
But now several people who were actually at the meeting say that in fact no such endorsement has occurred, and that the community leaders are still waiting to sit down with Eric Schneiderman before making a formal endorsement.
"They were specifically told that this was not an endorsement," said Isaac Weinberger, who attended the meeting. "We will meet with the next candidate and then there will be a decision by the community."
And Gary Schlesinger, the chairman of UJCare, attended the meeting and said that the first he had heard of an endorsement was when he read about it this morning.
"It was basically a nice sit-down but we are going to wait for the second candidate," he said. "I am not sure who jumped the gun but this was strictly a sit-down."
The release sent out last night does not contain any quotes from Hasidic leaders who were at the meeting.
The Hasidic community have a tendency to vote as a bloc, and to follow the endorsements of the rabbis and community leaders. Isaac Abraham, who also attended the meeting said that he did not think the Donovan's campaign assumption of an endorsement would hurt their chances from receiving an actual one later on.
"I don't think it will hurt him," he said. "It was just a little premature."
UPDATE: Team Donovan has retracted the press release and issued a new one. Donovan campaign aide Menashe Shapiro tells the DP, "I misinterpreted the authority of some of the organizers – who while leaders and political activists for the community – to make political endorsements on behalf of the Brooklyn portion of the Satmar/Aron faction. But I should have been aware of that fact. I take this hit, me alone."
dfreedlander@observer.com
twitter.com/freedlander