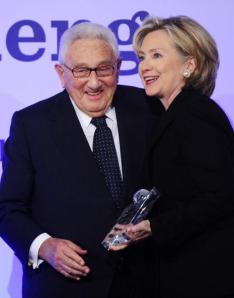 Hillary Clinton and Henry Kissinger will sit down on October 20 for an HBO special called The Secretaries: Conversations on Diplomacy.
According to a release from the State Department, the conversation will focus on current events, along with their general experiences, and will be hosted by the presidential historian Michael Beschloss.
Here's the release:
On October 20th, Secretary of State Hillary Clinton and Former Secretary of State Dr. Henry Kissinger will participate in the first of a series called "The Secretaries: Conversations on Diplomacy."

Co-sponsored by HBO, the Conversation will enable the Secretaries to discuss the issues of the day and reflect on their experiences as America's top diplomat. Michael Beschloss, an award-winning historian, will moderate the Conversation. New Foreign Service Officers, members of the Diplomatic Corps, current State Department employees and policy leaders will be present in the audience.

Discussion topics for the Conversation have also been suggested and promoted on The Sounding Board, the State Department's internal online idea forum for domestic and overseas employees.

The event will also launch the 50th Anniversary Patrons of Diplomacy Initiative for the Diplomatic Reception Rooms at the Department of State. For more information on the Rooms, please click here.