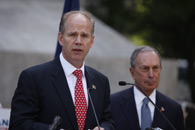 Not very, according to the most recent campaign finance reports.
The original estimation was that the fundraiser–which featured bold-face political names like Chris Christie, George Pataki, Mike Bloomberg and Ed Koch–was that it would bring in $1 to $2 million. The day of, the campaign was speculating that the event at the Midtown Sheraton would net them closer to $1 million. And the campaign would need it as well–they reported less than $400,000 on hand last week.
Checks for fundraising events usually come in the day before or the day of the event, but Donovan has garnered only $257,000 since the fundraiser.
A source within the Schneiderman campaign noted that Donovan had yet to go up on the air upstate, and added that their campaign believed that after tomorrow it would be too late to buy airtime.
That said, it does appear as if Donovan is finally tapping into the old Bloomberg network. Thomas Secunda, who helped Mayor Bloomberg found the company that bears his name, contributed $25,000, as did Richard K. DeScherer, the company's outside counsel.
dfreedlander@observer.com