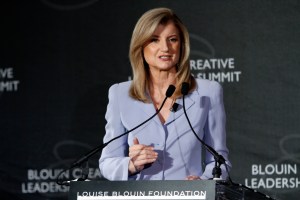 There's another profile of Arianna Huffington out today, this one from Elizabeth Spiers in Forbes. We're starting to notice a pattern in these profiles: the scene where Ms. Huffington introduces the reporter to some of her staff in The Huffington Post's SoHo office. It's normally also the part of the profile where the writer points out how intimidating and in-control Ms. Huffington is.
From Ms. Spiers profile in Forbes:
As we walk through the newsroom, Huffington introduces me to staffers sitting arm's length from one another at rows of computer and device-laden tables in the company's crowded open-plan office in Manhattan's SoHo. They're mostly bright young things, paid to aggregate news from a variety of sources, moderate comments, write stories, facilitate the creation of everything new on the ever-updating site and mine Google search terms. As she makes introductions, faces freeze into the sort of smile reserved for a boss who is omnipresent while not physically being there — they reflect a genuine willingness to please the teacher and perhaps a touch of fear. It's not surprising: Many who encounter Huffington report feeling simultaneously charmed and intimidated.
From Chris Rovzar's profile last month in New York magazine:
Walking around the office, Huffington is clearly proud of—even maternal toward—her young workers. She insists on introducing me to several, rousing them out of their headphone-induced isolation. As she greets them, they stand up hastily, as if submitting themselves for inspection.

"This is Shahien Nasiripour," she says, introducing me to a business reporter. "He cooks dinner for his girlfriend. She's in law school."

As she walks over to a fashion reporter, she explains, "We have a campaign in our style section for women to wear flats."

"She wears flats," the young woman assures me as I eye Huffington's heels. "She carries them in her bag, and there are holes in them." In fact, earlier Huffington had showed them to me, as if they were a trophy, explaining, "My favorite thing about New York is how much walking I can do. I'm like obsessed with my ballet flats. I have to graduate to feeling that I can give speeches on the stage and be interviewed on TV and not wear heels."