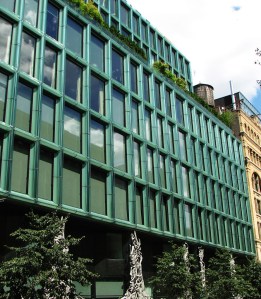 "I did this for me and my family," Ian Schrager told Vanity Fair recently. "After a lifetime of trying to create spaces for everyone else, this is the first time I did it for myself."
Mr. Schrager, the pioneering boutique hotelier, was referring to his palatial penthouse apartment at 40 Bond Street, an exquisite cast-iron recreation he developed last decade with renowned French architects Herzog & de Mueron. But even these Pritzker Prize winners were not up to the task of designing Mr. Schrager's personal pad atop the green-glass-and-graffiti-gated building. For that, archminimalist John Pawson was brought in.
Pawson's minimalism requires a kind of maniacal precision and a purity of materials. (Think sheets of extra-clear glass 12 feet 8 by 7 feet 4 dropped into place by cranes, not to mention a Brazilian-basalt hot tub.)
And yet even these exacting standards failed to suit Mr. Schrager.
"This apartment is the most sophisticated thing I have ever done. It's about the quality of the materials," Schrager says, adding that he tore out hundreds of Austrian-white-oak floor planks when the color did not turn out to his liking. "Everyone was saying, 'Leave it! It's not worth it!'" he says. "I wanted a wide-plank gray-beige floor, and the second time we installed it I approved every plank.
Bad. Ass. But what else do you expect from the guy who brought us Studio 54 and the Royalton? Now if only he can get things squared away with Aby Rosen at their Gramercy Hotel and finally launch his new venture with Bill Marriott, life should be pretty good.