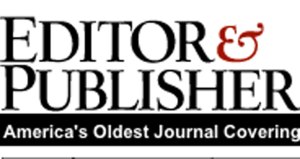 Editor & Publisher owner Duncan McIntosh Co., the nautical magazine publisher that saved E&P from having to close shop earlier this year, has fired the three remaining editorial staffers with the intention of replacing them with Duncan McIntosh employees. According to Jacket Copy, the three remaining staffers were laid off via email on Friday.
Mark Fitzgerald, who assumed editorship when Duncan McIntosh bought the newspaper trade publication, said he was blindsided. "It was 10 of the weirdest months of my life," he told the Maynard Institute. "It was almost like working with a cult with these people. I got no clear explanation of why we got fired."
Former editor-in-chief Greg Mitchell, who was laid off shortly after the purchase and now writes for The Nation, criticized Mr. McIntosh's management:
McIntosh, when he took over the magazine, vowed (in a meeting with me) that his first order of business was a complete redesign of the magazine's once-popular and influential dinosaur of a Web site. The magazine had long advocated shifts to the Web, even holds an annual new media conference, but its site continued to lack video and comments, among other modern features, and it hadn't gotten a facelift since 2002. The promised update never happened.
In their memo, the Duncan McIntosh Co. said this of the website: "E&P is completing a reader research project, results from that study will be available to the editors to assist in determining what subjects are of primary importance to readers and online visitors."