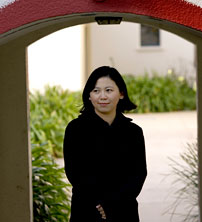 A few days after being deservedly dubbed a "genius," newly minted Macarthur Fellow Yiyun Li, whose recent short story collection, Gold Boy, Emerald Girl, has been excerpted in the New Yorker (she's one of the much-envied 20 under 40), told a gathering at the Asian American Writers Workshop on West 27th Street why she's strenuously resisted having her works, which also include A Thousand Years of Good Prayers and The Vagrants, translated into Chinese.
"Really, it's because I don't want my parents to read them!" she said, offering an embarrassed giggle, during a Q&A session with Brigid Hughes, founder of the literary journal A Public Space. Li's folks, who don't speak English, live in Beijing; she lives in Oakland, Ca. (Her writing, which started out pretty "angry," she says, has gotten somewhat sunnier with time…but, still.)
Later Li was asked if she planned to do anything frivolous with her $500,000 "no strings attached" prize money.
"Unfortunately, I have a bad record of not spending money, either frivolously or unfrivolously," she replied. Not even a special dinner, perhaps? "Unfortunately, I don't like food much!" (Lucky girl).
She did admit to one splurge, "an 1894 edition of a Turgenev book." You don't get to be a genius for nothing.