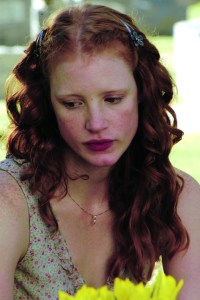 Every movie is a gamble, but considering the back-stabbing and double-crossing that goes on behind the scenes, the juggling of the books in the Hollywood accounting departments, the almost certain knowledge that everything will go over budget and cost twice what it should, the fear of filming anything that is just a little bit different and the uncertainty of what makes a gamble pay off commercially, it's a miracle that good movies ever get made. It's more disconcerting when a good movie gets made and sits on a shelf for years, attracting only an audience of dust mites. Jolene is a very good movie that toured the film festival circuit in 2008 and disappeared. It is opening at last, and it's good enough to ask aloud, what happened?
Sensitively directed by Dan Ireland, a co-founder of the Seattle International Film Festival who makes interesting, offbeat, critically praised movies (The Whole Wide World with Renée Zellweger, Mrs. Palfrey at the Claremont with Joan Plowright) that almost always run into distribution problems, Jolene has been carefully adapted by Dennis Yares from a short story by E.L. Doctorow. One would hope that it might change Mr. Ireland's continual run of bad luck, but the way it has been ignored by both the majors and the small film companies that specialize in low-budget indie-prods, I worry that a lot of people who crave fascinating departures from the normal Hollywood rinse cycle may never get a chance to see it. This would be a shame for many reasons, but most of all because Jolene introduces in the title role a captivating and totally original newcomer named Jessica Chastain. This movie boasts a terrific cast, and Ms. Chastain not only holds her own corner of every scene, she's the only thing you want to watch. It's a smashing debut.
Jolene chronicles 10 years in the hardscrabble life of a freckle-faced redhead raised in a series of foster homes in South Carolina. All she's got is an amazing talent for art, which nobody encourages, so in her desperation to start a life of her own, she marries a boy named Mickey (Zeb Newman), a shiftless weakling with no ambition who drives a diesel truck. Mickey moves into the house of his uncle Phil (Dermot Mulroney) and surly aunt Kay (Theresa Russell). In no time, horny Uncle Phil is showing Jolene all the tricks in bed her callow husband has only seen in Kama Sutra illustrations. But when Aunt Kay comes home early from the bank where she works and finds them in their underwear ready for X-rated action, Kay goes ballistic, Mickey does something rash and Jolene becomes a home-wrecker and a widow in the same day, labeled a juvenile delinquent with no living relatives and sent to a mental institution. Dashing Uncle Phil (another perfect performance by Mr. Mulroney in a small part) turns gray and ends up in prison for statutory rape. The first chapter in her new life ends like Elsie Dinsmore.
Still searching for someone to love and take care of her, Jolene is an instant hit in the loony bin, attracting the attention of a lesbian matron (Frances Fisher) who provides her with crayons and introduces her to new sexual adventures that–well, let's just say she adjusts quickly. Jolene's philosophy: "Once you get going, it doesn't matter who it is and what they've got–all you gotta do is close your eyes." Part Raggedy Ann, part Marilyn Monroe, Jolene is irresistible. Everyone she meets promises her a home and unconditional love. Somehow, it always seems to end when the police arrive. Running away again after the Fisher character helps her escape, she hits the road on a Greyhound bus to see the country, occasionally selling her hidden pleasures to meet expenses. Working as a waitress on roller skates in a burger joint in Arizona desert, she meets and marries a tattoo artist and secret drug dealer named Coco (Rupert Friend, who played Prince Albert in The Young Victoria) and ends up with a big red valentine heart on her derriere. Things are swell until his other wife (Denise Richards) arrives with a baby named Coco Jr. What's a poor, jilted bigamy victim to do? Jolene dumps his stash of heroin all over the kitchen table, calls 911 to come right over and heads for Vegas. Working as a pole dancer, she meets and marries Sal (Chazz Palminteri), a wealthy businessman, which is the Vegas word for "gangster." Sal is kind and adoring, giving her everything she ever wanted, including her own art gallery and a taste of real security, "like eating cotton candy all day long." Alas, the sugar ends in a spray of bullets, and Jolene flees again. Years pass and she ends up as a receptionist in Oklahoma, where she hypnotizes Brad Benton (Michael Vartan), a rich, handsome eccentric whose family owns half of Tulsa. Mr. Right turns out to be a born-again Christian, a control freak and a closet sadist who beats her up and kidnaps her new baby. At 25, against all odds, she has become a profoundly accomplished artist, but her talent is all she's got left.
In the words of Peggy Lee's hit song "Is That All There Is," you begin to hum "If that's the way she feels, why doesn't she just end it all?" But you don't know Jolene. The movie builds its trajectory, brick by brick, as she falls under the spell of a string of bogus rescuers who reward her with nothing but temporary shelter from grief. Every time she gives her heart, someone breaks it. (It really is a role Marilyn Monroe was born to play.) The idea of the perils that hide behind every door, waiting to pounce on life's innocents, has fueled literature from Voltaire to Nabokov. Jolene is Candide with genders reversed, Lolita with a moral center. What sets Jolene apart and saves her from being another hapless victim is her unwavering optimism, painting every relationship as she survives it. When the right doors don't open, she enters the wrong ones. She's so adaptable to her fate that when all else fails, she can shift gears faster than a Maserati. The movie suffers from too many abrupt mood swings; it doesn't know if it wants to be comedy or melodrama. With its noir twists, irresponsible sex bordering on soft porn and brutal emotional treatment of a naïve heroine who is as gullible and trusting as a kitten, it will cause some cynics to make obvious comparisons to Fanny Hill. But Jolene treats misfortune with a wry smile, and with Ms. Chastain's beauty and vulnerability as the focus, her character's dreams and realities are vividly etched. You go away exhilarated. The movie has been through as many hurdles getting here as dear, sweet Jolene, but sometimes the most engaging movies are the ones worth waiting for.
rreed@observer.com
JOLENE
Running Time 115 minutes
Directed by Dan Ireland
Written by Dennis Yares, based on a story by E.L. Doctorow
Starring Jessica Chastain, Dermot Mulroney, Chazz Palminteri, Rupert Friend, Michael Vartan
3/4