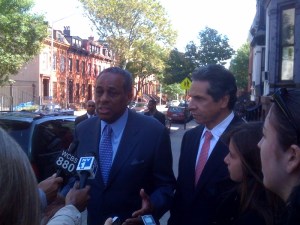 Andrew Cuomo took to the pulpit this morning, as part of his ongoing effort to rally his base.
At the Brown Memorial Baptist Church in Brooklyn, Cuomo told about 200 parishioners that this is a "vulnerable" political moment, and that people's anxieties mean anything could happen in November.
"When people get afraid then they can do a lot of different things," Cuomo said. "And you have forces out there today that are preying on that fear."
Cuomo accused his opponent, Carl Paladino–who the attorney general never mentioned by name–of trying to divide the electorate, while Cuomo said his own campaign is a celebration of the state's diversity.
"To make November 2nd a celebration of that, you have to come out and you have to vote. Because the angry forces will vote. The angry voices will get up and get out of their houses and they will go to the polls. I promise you that. It's the voices of hope and unity that have to vote also. And that's why we're here today."
Introducing Cuomo was his erstwhile rival, Carl McCall, who Cuomo challenged in 2002, much to the consternation of the black community.
Without mentioning him by name, McCall made sure the congregation knew of Paladino's "racist" emails, and called Paladino "dangerous" and "unfit to be governor."
"And unless we do something about it, that dangerous person can become a leader in this state," McCall warned.
"We can clap and we can pray, but we've got to turn out," he said. "So, I want you to go from here and spread the word through this community that Andrew Cuomo is our candidate. He will help us to stop this unfit person from becoming governor. And he will become the kind of leader that represents what we need."
After the speeches, McCall joined Cuomo on the sidewalk (a block away from the church doors), to officially endorse him. Asked by a reporter if he agreed with McCall's characterization of Paladino's emails as racist, Cuomo said:
"I think given his positions, given his stance, given what he's said, given what he's done, it's not appropriate that he be the governor of the State of New York. He does not represent what the people of the State of New York believe–not in his positions, not in his statements. It's not who we are."
Cuomo said he wasn't exactly nervous or anxious about turnout among the base, but that he wasn't taking any chances.
"Right now you have a, let's call it angry–what they call themselves, an angry group–of people who are highly mobilized and organized," Cuomo said. "And the message to everyone else is this is an election, there are very important issues, there are very stark choices, inform yourself and don't waste your vote. Because it's not enough to sit back and say well those positions could never happen. No, they can. If you don't get up and you don't vote, it can happen."