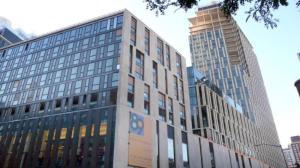 — Take that, Ferrari! Last month, Matteo Sardi, the PR chief for the Italian carmaker's American operation, zoomed into a sweet West Village pad. But in a sign of the continued resurgence of the American auto industry, Sangyeup Lee, the designer who brought the Camaro back to life, has one-upped his foreign competitor. Mr. Lee and his wife, Soonhyun Kwon just took the wheel of a 1,770-square-foot river-facing unit at Extell's Rushmore at 80 Riverside Boulevard.
The two-bedroom, three-bathroom apartment has, like all units in the building, a top-of-the-line kitchen — Subzero, Viking, and Miele appliances, Pietra Cardosa stone countertop, marble backsplash, and white wood cabinetry, says the Corcoran listing — and an open, modern layout. As Curbed has noted, the developer has been offering discounts in the 30 percent range, so how about this unit? There was a deal, at $2.59 million, down from $2.95 million, the same as the unit's first listing in July 2008. That comes out to a savings of… carry the two and divide by five… of only 12 percent
— Philip J. Purcell IV, known as "Boo" and son of the former Dean Witter and Morgan Stanley boss whose name he shares, has just bought an apartment with his wife, Stephanie, at the colorful, SOM-designed 101 Warren in southern Tribeca. There's a Whole Foods downstairs and P.S. 234 is across the street, but that is not all this 1,913-square-foot, three-bedroom, three-bath apartment has to offer. There is also access to all kinds of terraces and gardens and rec rooms, plus 23 years left on a tax abatement. Mary Choy — not to be confused with the adorable Awl writer — bought the unit for $3.055 million in 2008, according to PropertyShark, but it just sold for $2.93 million according to city records. It had last been on the market in June of last year for $3.65 million.
— Keeping it in the family, it's official that Moises de la Renta has bought at Soho Mews. As we (and The Times) previously reported, daddy Oscar led a helping hand on that $2.4 million deal. Fun fact: His address is listed as "Skiff Mountain Road," in Kent, Conn. That caused the Real Estate Desk to think of their favorite movie.