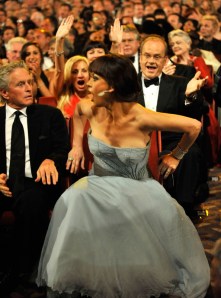 Today being Columbus Day, public records were closed, and so no surprises to report. Still, there is always action on the New York real estate scene, some of which shows up in other venues. Here's the latest scoop from some of our colleagues:
— Michael Douglas does not do business the way his Wall Street character Gordon Gekko does. Unlike the hard-charging banker, Mr. Douglas likes to take his time and deliberate, at least when it comes to buying a house. As Jennifer Gould Keil reports in the Post, Mr. Douglas and wife Catherine Zeta-Jones spent six months renting "a brick, center-hall Colonial mansion" with five bedrooms and five-and-a-half baths in Bedford before buying the 6,300-square-foot Westchester home on Guard Hill Road. There is both a pool and a pond on the 5.7-acre spread.
— The River House has its day! Fingers crossed! The Real Estate Desk gave the storied Art Deco building a hard time last week, but it appears that Marty Richards, the Broadway and Hollywood producer, has finally won a decades-long fight with his own 14-room unit, which has stubbornly refused to sell for 10 years. Josh Barbanel writes in the Journal that Mr. Richards' apartment has gone into contract, a promising sign, but also not a definitive one, as it's been there twice before. Not to jinx Mr. Richards, but the notorious board could still be a problem. Hopefully, this has-been has finally had it.
— This weekend's Big Deal in the Times was the unusual story of Huguette M. Clark, daughter of a former Montana senator and copper magnate who has spent the last 22 years bedridden in a hospital. And yet, her $500 million estimated fortune has kept her exquisite properties in peak shape ever since. A good thing, as buyers are reportedly beating down the door for the 104-year-old's 42-(42!)-room spread at 907 Fifth Avenue that is not actually on the market — making it all the more covetous — and a 52-acre estate in New Canaan currently asking $24 million. With no family, where will all that money go, though? Perhaps a charitable donation to your fair correspondent?