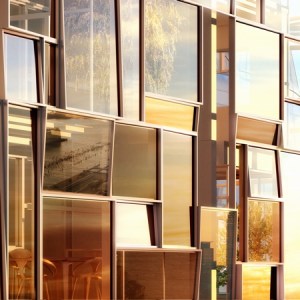 — If you've ever watched a live cam of something on the Internet, say Ground Zero or the Statue of Liberty, thank Brian Cury. He is the founder of Earthcam, one of the foremost practicioners of the web cam form. For a guy who likes to film the world, it follows that he would by in Jean Nouvel's 100 11th Avenue, the architect's so-called Vision Machine, the one with the funky facade and wraparound windows. Cury paid $5.8 million for the 2,674-square-foot, three-bedroom, three-and-a-half-bath apartment. It was a steal, too, as the first ask, listed just over a year, was at $6.75 million.
— Curbed cracked the case on a combo penthouse at Extell's super-glassy Lucida condominiums overlooking the 86th Street Lex stop. Paul Wilmer, a venture capitalist and Trump U professor (whatever that is), walked away with 6,800 square feet of apartment spread across two full floors. The $15.8 million sale marks the last of the penthouse units at the Cook + Fox-designed "green" home to go.
— Those city-mandated pied-à-terres at the Trump Soho are still selling, despite the restriction that they only be occupied 120 days a year and for no longer than 29 days at a time–residential housing is illegal in the section of Hudson Square where the Trump and Sapir tower is located. Still, the foreigners keep coming, maybe a Spanish film executive in this case, or at least film buff, as an unlisted unit on the 33rd floor of the 46-story tower was just purchased by A Room with a View 3409 LLC. Perhaps the Barcelona-based buyer, who paid $1.63 million, owns that unit, as well.
— Just down the block, 1 York Street, the fancy Enrique Norten conversion, has a new buyer. Lori McConvey has paid $2.55 million for the sixth-floor unit. Hers is located in the masonry corner of the structure, as opposed to its glassing addition, and covers 1,530 square feet with two bedrooms and two baths.