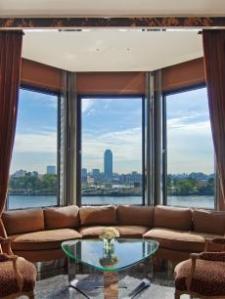 — The "kind of pathetic" River House and a team of Sotheby's brokers is out to prove The Real Estate Desk wrong. Back in March, our own Dana Rubenstein called the building a has-been, but that hasn't deterred the owners of 4E/5E, a 14-room duplex currently asking $11 million. Sotheby's Nikki Field and Patricia Wheatley name check the Desk's pal Carter Horseley in their listing and crow about "the grace and flow of a bygone era with oversized rooms, 10'6″ ceilings, fine proportions and large windows."
Hopefully it works, as the listing has bounced from Stribling, where it was listed for $11.5 million in the fall of 2007, to Brown Harris Stevens the following year, with an audacious tag of $15 million, before arriving at Warburg around the time our article appeared, when the ask was set at $10.95 million. For what it's worth, Dana wrote that nobody is exactly sure the building's ever broken the $10 million mark, so if this one pulls it off, bravo.
— What's it like working the ESPYS, ESPN's annual awards show? The Desk has no idea, but now we know it pays well enough to buy your own million-dollar two-bedroom in the East Village. Maura Mandt, who has produced the show — among other things — eight times since 1998, just bought a co-op at 50 East 10th Street. The final price was $1.15 million, down from $1.25 million but also more than the $999,000 the unit was asking back in March. That sale entered contract but never closed, and the apartment was relisted in June. The seller was Joan Bardach, a clinical psychologist.