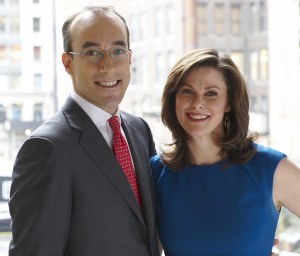 — Looks like that price chop worked. As The Observer noted at the end of August, writer Vicky Ward and publisher Matthew Doull had split their nuptials and were looking to split from their Bleecker Street townhouse, too. With no takers at $7.495 million, the price was dropped to $5.995 million. According to city records, that did the trick, as the four-story home at the corner of West 11th Street closed today for $6 million. The buyer was 407 Bleecker Street LLC. The Romanesque Revival facade of 407 Bleecker Street has a delightful pink hue to its brick facade, and unlike many many homes on the strip, there is no ground-floor retail. It can, however, "Can legally and perfectly be made into a BED AND BREAKFAST," as Corcoran's Sara Gelbard and Paul Kolbusz note in their listing.
— As Page Six reported last week and city records now confirm, former CNN anchor Campbell Brown and her pundit husband Dan Senor have indeed traded uptown for downtown, moving into The Hastings at 71 Murray Street, an 11-story converted loft. The 4,000-square-foot apartment is immensely open and bright, even by loft standards, with exposed beams and brick walls, all painted white. The couple paid $3.9 million, down from $4.495 million, though still a profit for the seller, Dominick Ligresti, who paid $3.42 million in 2005. It is one of numerous Manhattan properties owned by Ligresti, a dermatologist who was profiled by The Observer three years ago for his considerable real estate holdings, totalling more than $15 million in value at the time.
— Judith Greenberg Seinfeld used to work in perfume, heading up Balenciaga's line, now she's a real estate maven and it shows. She has chosen one of the artists studios at 27 West 67th Street to call her home, albeit for the more aristocratic than artistic sum of $4.7 million. The Heritage Capital Group principal picked up the pad from Catherine Maria Polites.
— Two conscience couples have traded an immaculate brownstone in–where else–Park Slope. Bruce and Marlo Wrobel have sold their stunning four-story home at 150 Lincoln Place to Roopal Luhana and Birbal Kaikini for the asking price of $3.195 million. The home, which was bought by the Wrobel's in 2002, has been meticulously updated, with jaw dropping molding and parquet floors wholly intact at the same time that hallways have been replaced with columns, creating an open and modern layout. The bathrooms–there are two-and-a-half–and two kitchens have also been updated without overwhelming the two-family home.
Mr. Wrobel is the co-founder and executive director of All for Africa and has been developing infrastructure on the continent for three decades, according to his online bio. Md. Luhana, meanwhile, is a crusading litigant with a flare for television, having won a number of consumer advocacy and class action lawsuits, in part through her firm's assiduous cultivation of the morning shows.