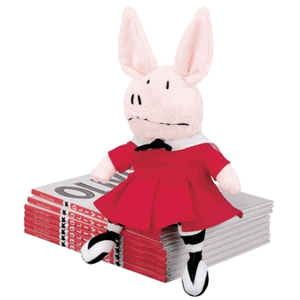 — It's not quite Eloise at the Plaza, but Olivia the Pig had a good thing going in the Village. The star of the children's book (and now television) series, and her author Ian Falconer, had been living in a townhouse at 45 West 9th Street for the past three years, purchased for $4.6 million. According to city records, the house sold for $4.1 million back in May, though the deal was only filed yesterday. The original asking price, from Sept. 22 (one week after Lehman filed for bankruptcy, it should be noted) was $7.1 million. The buyer was Kirat Singh, a managing director at Bank of America, and Yue Chen. There hasn't been a new Olivia book since Olivia Helps with Christmas in 2007, but Mr. Falconer's new collaboration with David Sedaris, Squirrel Seeks Chipmunk: A Modest Bestiary, should help make up for his loss on the house.
— Can't draw? That's when a rich family member comes in handy. The Times is reporting that Oscar de la Renta has bought a $2.4 million apartment for his son, Moises, at the Gwathmey Siegel-designed Soho Mews, the new condo project across West Broadway from the Grand. What the Real Estate Desk wouldn't give for its own "secret garden."
— Congrats to Elliman super-broker Dolly Lenz. Following yesterday's big news that there'd been a split between her team and the storied-but-troubled Apthorp, Lenz finally sold a spectacularly remade limestone townhouse at 123 East 61st Street, according to city records. The house was purchased back in 2007 for $7.9 million, had a brand-new facade put on — "rich mahogany-clad bay windows and high ironwork entrance gate convey classic Upper East Side elegance," according to Ms. Lenz' listing — and was then put back on the market in February of last year for $17.5 million. That not being the best time for such a sale, the price was knocked down to $13.95 million in July 2009. The final price was $12.1 million, well below asking but still representing a handsome profit, even after renovations. There is one catch: The place still needs a full interior reno.