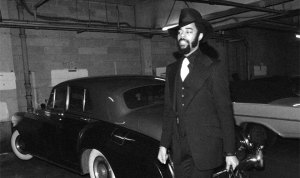 — A few weeks ago, the Times' Big Deal was that Walt "Clyde" Frazier, the Knicks Hall of Famer, had bought three adjoining penthouses units at The Lenox Grand, located at 381 Lenox Avenue, at the corner of 129th Street in Harlem. It was quite the spread, encompassing 4,600 square feet inside with 2,500 square feet of terraces to go with it–Mr. Frazier has a thing for the outdoors. According to city records, the pied-à-terre he appears to be trading in is at The Wimbledon, a rental building at 200 East 82nd Street.
But there's more in our trusty records! Mr. Frazier told the Times that the units had all been on offer individually for $1 million ($1.2 million, in fact, back when Corcoran had the listings in 2008, which are now with Warburg) and that he had been fortunate enough to get all three for a discount of $2.4 million.
Well, according to filings this week, two of those units sold for $830,000 and one sold for $850,000. Unless there were some concessions in there, that comes out to a total of $2.51 million. A deal, for sure, from $3.6 million, but how does one forget about $110,000? Given that Mr. Frazier plans to use part of his new pad to launch a sports management company, the Real Estate Desk is not sure whether this is good for business or bad. After all, agents are supposed to be wily.
— Speaking of basketball players and Big Deal's, this week's is about Dikembe Mutombo Mpolondo Mukamba Jean-Jacques Wamutombo (Dikembe Mutombo to his fans). The notoriously huge center (think Shaq minus one shoe size, if you don't know basketball) is said to be selling his three-bedroom, three-bathroom condo at 220 Riverside Boulevard for $4.5 million.
— Two anonymous parties are very happy today. Nine Commerce Street Inc. traded 9 Commerce Street Realty LLC a sum of $2.475 million for–you guessed it–9 Commerce Street, a four-story townhouse at the corner of Seventh Avenue on the block-and-a-half-long street. If that seems like a steal for Greenwich Village, consider that the building needs a full gut renovation. It was bought for $2.15 million in early 2007, so that means the seller made a tidy profit, but the buyer still got a deal from the $3.3 million first asked in July 2008. The most recent ask was $2.75 million, as of February. The listing agent was Rex Gonsalves of Halstead Properties.
— J.G. Keil over at the Post has the news that Dixie Chick Natalie Maines and actor husband Adrian Pasdar just bought a four-bedroom "home" at the Spear Building at 525 West 22nd Street for $4.3 million. There's also the news that Glenn Beck has moved apartments on the East Side.
— Robert Kaliner, a developer, and his wife Jodi have bought an apartment at The Grand Madison at 225 Fifth Avenue. The south-facing, two-bedroom, two-and-a-half-bathroom apartment has "sweeping views Madison Square Park," coos Cornelia Dobrovolsky of Corcoran in her listing. The price, coincidentally, mirrors that of 9 Commerce Street: $2.475 million, down from $2.75 million. The seller was Carmel Ryan.
— Richard Khawam, a director at Wachovia, and his wife Angela have cashed in their Soho apartment at 15 Mercer Street, selling it to the deliciously named Big Mango Corp for $3.7 million. That is nearly twice what the couple paid for it in 2003, when they plunked down $2.225 million for the condo.
— For a final treat, Charlie Palmer, the acclaimed chef, has sold his five-story townhouse at 34 East 61st Street, according to the Journal. He received $10 million for the beautiful brownstone, which was not only his home but also the location of his first restaurant, Aureole, which has since moved to Douglas Durst's Bank of America Building, nee One Bryant Park.