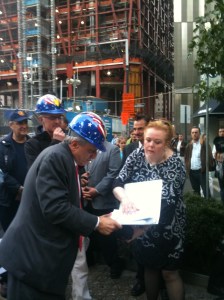 Carl Paladino traveled to the island that he loathes today to speak out against Park51.
He sounded very confident about his prospects next week, despite polls which show him trailing quite a bit, and he vowed that once he became governor he would stop the project from continuing.
"I am going to be serving you as a governor and I am sending out a very clear message today about what type of government we are going to have in Albany. Our government is going to be responsive to the people," he said.
The event today was sponsored by Hard Hat Pledge, a group of construction workers who have vowed not to work on the construction of Park51.
Paladino promised them that when he becomes governor they will not have to.
"This attempt to create an affront, a symbol of conquest, a symbol of triumph over the American people will never happen. I can assure that on January 1, 2011, I will put in motion whatever legal powers I have to stop this project," he said.
Asked afterwards which legal powers a governor would have to stop the project, Paladino declined to get more specific.
The timing of the event today was a little curious, since most observers are counting the "Ground Zero Mosque" as an "August story"–the kind of thing which captures the public's mind in the dog days of August and then fades from most people's attention. Paladino's presence at the news conference today however shows that he intends to keep up the heat on the issue for the remaining six days of the race.
"It's easy to come up and say, 'aww its freedom of religion,'" Paladino said. "That's what some of our leaders are saying. Because they want to politicize it. It's not political. It's a right. It's a right of the American people. We will not be apologists to anybody. And we certainly will not allow the erection of a monument to the triumph and the conquest to America."