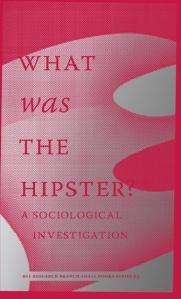 The journal n+1 has announced that it will release a small book that examines the 2000s lifestyle-or-maybe-just-clothing trend that came to be known as hipsterism. What Was The Hipster takes its name from a 2009 panel that addressed the topic, and was covered by The Observer.
They're disseminiating an important cultural analysis in releasing the post-mortem to a broader audience. Gawker declared the term to be dead earlier this year, which points out how dead it really must be.
In addition to the panel discussion the book will feature extras, among them an essay "Williamsburg Year Zero" that looks particularly good on the website.
I was a gentrifier in Williamsburg. Like the maligned hipsters, I used my parents' savings to secure a place to live… I needed expensive boutiques, otherwise I would have felt bad for having left Manhattan.
Look for it at Spoonbill and Sugartown next week.