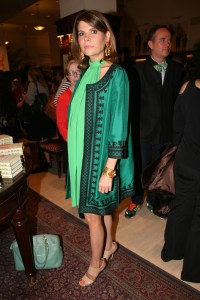 Lavish is not a word normally associated with book parties. Most of them are characterized by warm white wine and pallid cubes of cheese. Unless you are a member of the celebrated Guinness family, in which case your guests will be treated to Blood Orange Bellinis and delicate crab cakes in a mind-blowingly glamorous apartment in the right slice of Park Avenue. And Ivana Lowell is a Guinness whose searing memoir, Why Not Say What Happened?, was just published by Knopf. A soaringly high New York society crowd gathered at hostess Danielle Ganek's vast apartment to hear about Ivana's extraordinary family life, including stories about her grandmother, Maureen, the Marchioness of Dufferin and Ava; and her mother, writer Lady Caroline Blackwood (who was once married to Lucien Freud).
Ms. Lowell, a slim brunette stylishly turned out in an Alexander McQueen sweater dress, described herself as more of a storyteller than a literary genius like Robert Lowell, her late and beloved stepfather. "I was trained as an actress, and so I just acted out the stories and wrote as though I was telling them to my friends," she said. "I've come through it stronger and I'm trying to pass on a different legacy to my daughter: not so much craziness."
A roll call of who's who in New York drifted through the apartment oohing and aahing over Ms. Ganek's extraordinary contemporary art collection. Vanity Fair scribe Amy Fine Collins arrived in a fiery orange suit by Carolina Herrera with designer B Michael. Mercedes Bass spoke with Adele Chatfield-Taylor and Marie Claire's editor, Joanna Coles, caught up with Tory Burch and Marina Rust.
Ms. Lowell's cousin, artist Hugo Guinness, appeared in a show of family support, and jeweler Prince Dimitri of Yugoslavia was also on hand. The only person missing from the guest list was Ms. Lowell's other cousin, the fabulous Daphne Guinness (who may have had more pressing matters to attend to after being recently slapped with a lawsuit for destructively overflowing her bath four times).
"I wonder who did this apartment?" said Stefano Tonchi, looking around in amazement. The W editor co-hosted the lunch. We chatted about the recent cover with naked Kim Kardashian on it and what he has in store for readers in the near future. "You'll love what we have coming up in December," he promised.
Howard Blum, Ms. Lowell's boyfriend and a former Times journalist, was sporting a particularly vibrant purple tie for the occasion. When asked about it, he replied, "My friends kept telling me I had to stop wearing my old Horace Mann tie, so last trip to England we went shopping and got this from Richard James." When asked if he'd read the book, he replied, "Of course, several drafts of it, and she even dedicated the book to me."
The hostess, Ms. Ganek, an author in her own right, spoke of her admiration for Ms. Lowell's work. "As a fiction writer, I think that to publish a memoir is incredibly brave and honest and people really love it."
After collecting a plate of crepes, mini-pizza slices and mini-crab cakes (in New York, the larger the apartment, the smaller the food), The Observer hovered, unsure where to sit, until kindly invited to share an ottoman with Katharine Bryan, mother of long-standing Observer contributor George Gurley, while waiting for the talk to begin.
Everyone was moved by Ms. Lowell's vulnerability when she began tell her story. Caroline Weber, an energetic academic, facilitated the dialogue and gently helped to coax out the natural performer in Ms. Lowell. An animated and winsome speaker, Ms. Lowell was funny and irreverent even about the most tragic events in her life.
Ms. Lowell began her memoir four years ago after a particularly productive meeting with a new psychiatrist who, after listening to her unbelievable life story, said, "I'm surprised you are still standing."
Ms. Lowell then started to pour her story out onto the page. "After all," she said, facing the sea of Manhattan's social elite, "it was a story just too good not to tell."