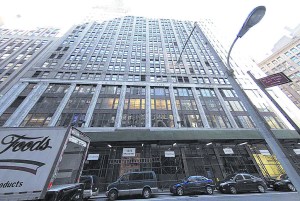 1375 Broadway
Try to wrap your head around this one: Micro Office Solutions will double its space to a whopping 40,000 square feet at 1375 Broadway.
Of course, the champion of tiny office spaces is expanding only in order to provide more of its unappealingly named "incubator" office units to small businesses. It will now occupy the third floor, as well as the sixth and 10th floors, in the building, owned by State Court Enterprises.
Meanwhile, accounting firm Raich Ende Malter has also expanded its space in the building, to 20,000 square feet. "Micro Office Solutions and Raich Ende Malter both saw the value in expanding their operations at 1375 Broadway," said Perry Mesmer of Colliers International.
And here we'd heard smaller office spaces were all the rage now.
Mr. Mesmer represented the tenant and the landlord along with Marty Meyer. The asking rent was $36 a square foot, according to Crain's, which first had news of the deal.