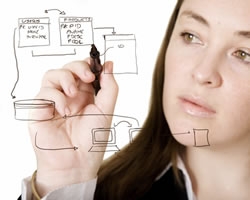 Silicon Alley Insider stirred up an already heated debate over women in tech today when it published its list of the 100 Coolest People in Silicon Alley.
The qualifications for making this list are pretty thin. "We've put together our annual list of 100 people in the New York tech community who did really cool stuff this year."
SAI seems to define "really cool" as "successful in business." The list focuses on people who have done deals, grown quickly, raised money or sold their companies for a lot of cash.
Out of 100 people, the list included just 12 women, leading The Wall Street Journal's Katie Rosman to tweet, "That's a lotta white boys."
To which the always game Henry Blodget replied, "Plenty of girls too!"
A Twitter battle ensued!
Women certainly comprise more than 12 percent of the world's population, but do they make up more than 12 percent of NYC's tech leaders?
According to research from the Anita Borg Institute for Women in Technology, females hold between 30 percent to 40 percent of all jobs in the tech sector.
But the percentage of women holding high profile roles at those companies is just 3 percent to 5 percent, a figure which has not changed much over the years.
There's no hard data that shows how well Silicon Alley mirrors the tech industry as a whole. A snapshot of Silicon's Alley's female entrepreneurs can be found here.
But its accurate to say that for a list focusing on "cool types" — aka the movers and shakers turning big dollar deals — 12 percent women represents a number well above the industry average.