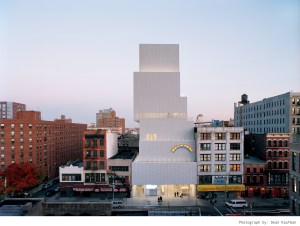 Starting next month, New Museum visitors will no longer be greeted by a resounding "Hell Yes!" when approaching 235 Bowery. Ugo Rondinone's enthusiastic rainbow sculpture, which has been an emblem of the LES institution since the building opened in 2007, will soon be replaced by Isa Genzken's Rose II.
The museum will begin preparations for the new sculpture on Saturday. But there is some consolation for Hell Yes! lovers: the artwork isn't gone for good. The museum promised that it would reinstall the sculpture in another location soon.
It's a tall order to find an artwork that packs as much of a punch as a rainbow "Hell Yes!" sign, but the New Museum may have pulled it off by picking an artwork that is, well, really tall. Rose II, the German artist's first public sculpture in New York, has a height of 28 feet. According to the museum, it will sprout from the second-floor ledge by the end of November.
The piece was previously purchased in 2008 by a private collector at Art Basel for €750,000, according to Artnet.
Hyperallergic reported rumors of the sculpture swap on October 25, though the museum did not make the official announcement until this morning.