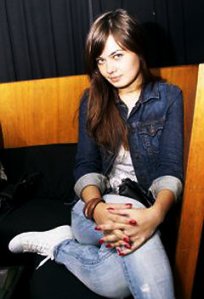 Federal and state prosecutors in New York brought charges against a ring of international cyber-criminals who used computer viruses to break into bank accounts. Among them were four New York students, including 21 year Kristina Svechinskaya, who is being groomed as the next Anna Chapman by the NY dailies.
Back in June the feds broke up a ring of Russian spys living in New York and New Jersey. The papers had a field day with Anna Chapman, a spy who spent time on the NY tech scene. "She may have been a true Cold Warrior, but Anna Chapman is red-hot in the sheets," wrote the Daily News. "The flame-haired Russian hottie accused of being a deep-cover mole in the U.S. was a wild woman in the sack, her ex-hubby says."
Online photos of Kristina Svechinskaya had potential, as did her outfit at the arraignment — calf-high boots and skin-tight jeans. Unfortunately, wrote the Daily News, "Several who were arraigned in federal court Thursday looked young and frightened, a far cry from the sexy glamour shots they posted on websites."
Daily Intel thinks Svechinskaya's name is too difficult for her to become a real breakout star like Chapman. Tech Observer would like to point out, however, that while Chapman accomplished nothing during her tenure as a spy, Svechinskaya and her cohorts managed to steal $3 million from U.S. bank accounts.