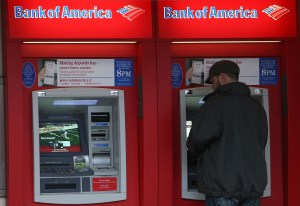 Analysts are not reacting favorably to recent news about Bank of America, the country's largest bank by assets and the reported recipient of a nasty letter from lawyers representing some of the country's biggest money movers. BofA today suffered downgrades from Chris Kotowski at Oppenheimer and Christopher Mustascio of Stifel Nicolaus. Both took the stock down a peg on concerns that investors clamoring for buybacks could hurt the stock, if not necessarily the company.
Both analysts cheered the bank's third-quarter earnings report, and said that part of the reason for their downgrades was a volatile and fickle stock market, as opposed to the analysts' actual predictions for the company's future performance.
Notably, BlackRock CEO Larry Fink offered a similar sentiment, saying that price declines in bank stocks has been "overdone." Fink, whose firm is among the reported plaintiffs in a recent letter requesting that Bank of America repurchase $47 billion in faulty mortgages, said that the risks posed to the banks was not as high as the more frenzied market commentators have been suggesting.
Side note: With a 34 percent stake in the company's nonvoting shares and 3.6 percent of its common stock, Bank of America is a huge shareholder in BlackRock, making for a weird web of connections and conflicts of interest as the two major firms gird for the upcoming mortgage struggle.
mtaylor [at] observer.com | @mbrookstaylor