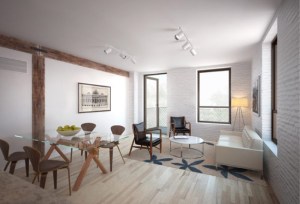 This macaroni factory-turned-17-unit loft residence opened its doors last week. To The Observer, it looks poised to be a landmark success for Brooklyn developer Barrett Design and Development and partner Lindsay Barton Barrett, a Corcoran SVP.
Barrett retained the building's masonry and heavy timber from 1898, and updated the shell with sound-proofing and energy-saving technology. In addition to stainless steel kitchens, and washers and dryers, many units have terraces facing the East River. The penthouse units have private sections of the roof deck, which was made from recycled steel shipping containers. Units range from just under $500,000 to about $1.5 million.
From the locally sourced materials to the fonts on the project's Web site, the details of 25 Carroll seem to be honing in on a very specific, very current aesthetic. It looks like the place where the people in the A.P.C. catalog live.
The one concern is that it looks too good right now. Will it always scream Brooklyn 2010? Or is this what the future looks like? If so, we could do much, much worse.
realestate@observer.com