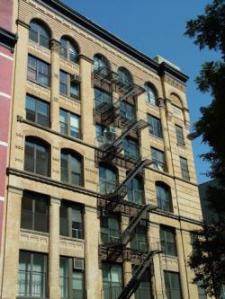 Like most buildings in the neighborhood, this Romanesque Revival building in Noho was built in the 1890s for commercial purposes but has since been converted into a coop full of gorgeous lofts. In the fifth floor unit, listed for $2.8 million at Stribling, the charming details of post-industry — cast iron columns, exposed wood beams — have been lovingly restored, though just enough for keep that polished-gritty feel.
As for the less-than-charming features of a loft apartment — no privacy or places to hang art — those have been elegantly addressed. Soundproof walls delineate a just-open-enough floor plan with 2 bedrooms, 2 bathrooms. Plus, the location, Bleecker between Mott and Elizabeth, leaves virtually nothing to be desired, unless you hate Whole Foods, the Angelika, the New Museum and a near constant flow of beautiful people and reliable trains.
If you figure out what's wrong with it, let us know. We'll sleep easier.
Take a tour of 27 Bleecker Street
realestate@observer.com