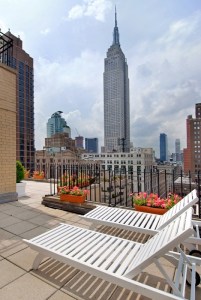 If the recent fight over the views of the Empire State Building got your heart pounding, then this 3,000-square foot duplex penthouse at 20 Park Avenue may be the perfect home for you. With an additional 2,000-square-feet of terraces spread across it two floors, it will be easy to take in the entire city, not only your famous neighbor two blocks away.
Inside, the apartment provides a modern counterpoint to its Art Deco compatriot. Eschewing overwrought style, the modern white palette boasts simple, powerful accents, like understated molding and a granite-lined bathroom. There are exposed columns throughout and plenty of blank walls for hanging exquisite art.
If the $22,500 monthly rent seems steep, just imagine your guests craning their necks jealously as they gaze about the city, and the apartment practically pays for itself.
SLIDESHOW: 20 Park Avenue Penthouse