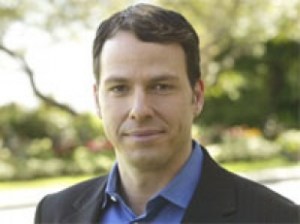 Publisher's Marketplace reports that ABC White House correspondent Jake Tapper has signed with Little Brown to write a book about a battle in Afghanistan.
The book is tentatively titled Enemy in the Wire, and the deal is reportedly worth a quarter to a half million dollars. The publisher also put out Mr. Tapper's other book, which concerned the Florida recount.
Enemy in the Wire will tell the story of the 54 U.S. soldiers at Combat Outpost Keating in northeast Afghanistan, who held the line against an attack of some 300 to 400 Taliban in October of last year, in what came to be known as the Battle of Kamdesh.
"What's it like to be under attack and so vastly out-numbered? Why was the camp there to begin with? How did the troops defeat the Taliban?" Mr. Tapper told Politico. "Who were these men — what are their stories? The more I read and watched on the news, the more I wanted to know."
Mr. Tapper was not in Afghanistan at the time of the battle, and said he first heard of it on ABC News. It's unclear who the organization had embedded there at the time, but Mr. Tapper should, er, tap him for color.
dduray [at] observer.com