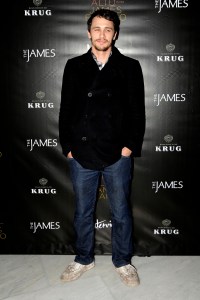 "The classy New York Observer!" James Franco, said to us as we approached, that disarming smile of his going on all cylinders. Then, perhaps joking, he sneered, "I'm sure you're going to say some nice things."
It was last Thursday and we were at The James, a new hotel in the southwest corner of Soho, to attend Interview magazine's party for Franco's new collection of short stories, Palo Alto, which comes out today. The "nice" comment wasn't too mean or unexpected: Franco knows reporters have been less than kind to him, and can sometimes restrict their access accordingly. At the same event Franco threw a Guest of a Guest reporter's phone on the ground and told Gawker's Maureen O'Connor to "go away"—but then there we were, witnessing his big grin waver as we approached him with a recorder, and he agreed to chat.
Earlier in the night it wasn't a sure thing he would even show up. The Observer was very fashionably late, but the actor-turned-writer—to say nothing of his budding careers as a screenwriter, director, English graduate student/teacher, performance artist, soap star, visual artist, and drag queen muse to Terry Richardson—had not yet arrived. As we waited and helped ourselves to champagne and truffle oil-soaked hors d'ouvres, we learned that Franco was holed up in his hotel suite, doing homework. He is, after all, pursuing a Ph.D. at Yale.
This extended education of James Franco loomed heavy over the entire party, seeing as the stories collected in Palo Alto were born in classrooms at Columbia, where he was pursuing an MFA in fiction. The crowd reflected this: many of the attendees were Franco's friends from somewhere down the path of his studies. He had texted them all to come, an Interview staffer told us.
The newly minted author did leave his homework soon enough, and when he entered, the room crushed upon him, vortex-like. The nook beside the rain-drizzled balcony, once nearly breezy, became a total gridlock of people drawn in to the ineffable mystery and allure of James Franco.
We started out with a few questions about literature. For all his apprehension about talking to bloggers, his speech found a relaxed, buoyant rhythm when I asked him to talk about his favorite works of literature, the ones that inspired Palo Alto. "William Faulkner," Franco said, his hands pushing back his dark hair, "in particular As I Lay Dying and The Bear, and uh, Denis Johnson's Jesus' Son—"
We stopped him there, and asked about his favorite story in the heart-stopping classic.
"Uh, no, I couldn't tell you the names, I don't know the names of the stories," he admitted. "Do you have one?"
We told him we liked the story called "Work," about two men prying copper from abandoned houses to sell for whiskey money.
"I like the one where he's working at the hospital and the guy comes in with the knife sticking out of his head," Franco said. He was talking about the story called "Emergency."
He also mention Golden State, a collection of poems by Frank Bidart.
Then, we moved off the subject of his own writing and onto the writing of Allen Ginsberg, whom Franco portrays in this fall's "Howl." We asked him for his favorite line in the poem that lends the film its title, the poem that launched the Beat Generation.
"Holy," he said.