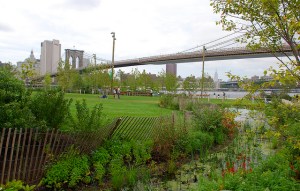 One of the biggest debates surrounding the recently opened Brooklyn Bridge Park — besides whether it or the High Line is the city's nicest new park — is deciding if condos should be built within its boundaries or not. The idea is that the new development will help fund the parks maintenance. Neighbors in exclusive Brooklyn Heights would rather luxe new towers not mar their multimillion-dollar views, but they're also resistant to paying a tax to help fund maintenance. The issue is so big, it determined an election.
Here come the Jehovah's Witnesses a knockin'.
The religious group is preparing to leave its century-old Brooklyn home on the border of Dumbo and the Heights, and developers are salivating over the millions of developable square feet. Condos-in-the-park opponents are hoping to tax at least some of the Watchtower properties, and it looks like the plan is gaining momentum.
The Real Estate Desk is a fan, not only because we're not thrilled with the idea of privatizing public land but also because it means more space for more park. Hallelujah!