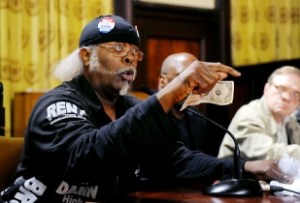 One of the few candidates receiving positive attention after last night's gubernatorial debate is Jimmy McMillan, the cartoonishly mustachioed candidate from the Rent is Too Damn High Party.
"To be honest with you I was cool as hell," McMillan told The Observer in a brief phone interview. "Even with my gloves on I was freezing, it was like I was in the North Pole!"
McMillan said that since the televised debate, he has been endorsed by 200 different radio stations across the country and has received 40,000 emails of donations through his website.
He contributes his newfound stardom to the common national problem of rising rent costs.
"They're suffering from the same thing, its universal suffering.," McMillan said. "The movement has hit the surface of the world now. Last night and this morning the people have turned out. They're showing me the help I need. Better late than never!"
One notable lines from last night included his response to a question about gay marriage, where he said that "if you want to marry a shoe, I'll marry you."
"My niece called me this morning and said 'Uncle Jimmy, you've got to slow down!' But no, everything goes so fast- they put that little yellow light on and you have to make your point. So I thought to myself: 'I'm a karate expert and a musician: I have 15 seconds. Now its time for the humorous Jimmy McMillan to come out.' I used my humor to get my message out. And I got every person on that stage to say the rent is too damn high- it worked."