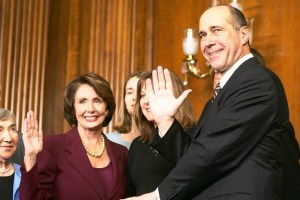 Democrats in marginal districts have been moving rapidly away from Nancy Pelosi in recent weeks, with some going so far as to say that they may not back her for Speaker of the House if Democrats retain control in November, and others suggesting that she may not even try to retain her post.
Congressman John Hall, however, who is locked into an excruciatingly tight race against Republican challenger Nan Hayworth, told The Politicker's Meghan Keneally in an interview today that he supports Pelosi remaining in the leadership.
"I would vote for Nancy Pelosi for Speaker again. Nan said she would vote for John Boehner for Speaker, who said he would be for privatizing Social Security, voucherizing Medicare," he said.
Pelosi has been forgiving of those Democrats who have moved to distance themselves from her, telling PBS: "I just want them to win."
Republicans have been been hammering Democrats on Pelosi this campaign season. The NRCC is out with an ad that accuses Southern Tier congressman Mike Arcuri of being a rubber stamp for the San Francisco Democrat.
DCCC chairman Chris Van Hollen said yesterday that he expects Pelosi to retain her post, saying at a breakfast hosted by the Christian Science Monitor: "The Speaker of the House Nancy Pelosi has an enormous reservoir of good will within the Democratic Caucus. She's been fighting this fight harder than anybody, and she would be the first to tell you that this campaign is about something that's much bigger than her."
In response to Hall's comments, Hayworth campaign spokesman Douglas Cunningham said, "Nancy Pelosi and John Hall are out of touch with the district. We don't think either one of them represents where the county needs to go or where the district needs to go. It is just more evidence of him being a Washington politician."