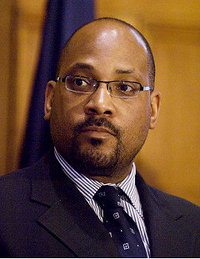 Senate Majority Leader John Sampson held a fundraiser Tuesday at the Renaissance Ballroom and netted $114,500, mostly from real estate and development interests.
The figure marks a decent haul a few days before the election, except that Sampson has only token opposition against a woman named Rose Laney.
Political operatives here and in Albany give a few explanations for Sampson's stockpiling, none of which are mutually exclusive:
One, he is preparing to send the money to embattled Democrats who are faced with the very real prospect of losing their 2-seat majority that it took them 40 years to obtain. If that were the case however, we should see a lot of expenditures from the Committee To Re-Elect John Sampson on the 24-hour filing notices, but they have not shown up yet.
Two, that he is preparing for a time when he is no longer majority leader, or possibly no longer even leader of the Senate Democrats, and so is trying to stockpile as much money as he can. If Sampson were to just become one of 62 senators, he would have a much harder time getting the folks at Tishman Speyer to pony up the nearly $15,000 they gave him this week.
Third is that Sampson, in the wake of the Inspector General's AEG report, Sampson is raising money for a legal defense fund. According to lawyers The Politicker has spoken with, at the state level elected officials are able to transfer as much campaign cash as they want to cover their legal fees.
Sampson spokesman Austin Shafran strongly denied that this third reason was behind the majority leader's recent fundraising spree.
"We are stockpiling for a very competitive election where we expect to maintain and expand our majority," he said
dfreedlander@observer.com