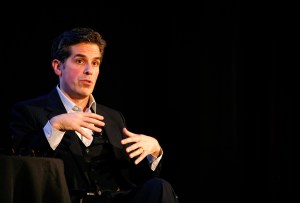 Jonathan Lethem has shipped off to the West Coast but New York magazine recently caught up with the author and pried from his brain this juicy bit of gossip: A musical based on his novel The Fortress of Solitude, with music by Bloody Bloody Andrew Jackson's Michael Friedman, has a "hot chance" of being made.
"For a while, I thought it was just really silly," he told them. "Now I'm beside myself with happiness, and I think it stands a chance in this coldhearted universe of ours."
We've heard of worse ideas. Plus, we know Broadway's looking for a superhero musical that doesn't threaten to break the bones of its actors.