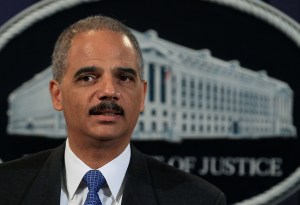 Attorney General Eric Holder is joining several state attorneys general in an escalating legal inquiry over reports of legally dubious foreclosure proceedings initiated by major lenders like JPMorgan Chase (JPM) and Ally (formerly known as GMAC).
Reuters reports that Holder said today he's looking into "charges that have surfaced in the newspapers in the last couple of days." House Speaker Nancy Pelosi, Senator Al Franken and other members of Congress have asked various regulators to dig into allegations that major lenders have improperly foreclosed on properties.
Attorneys General in North Carolina, Texas and Connecticut have called for wholesale moratoriums on foreclosures in their states, while California and Massachusetts have asked particular lenders to suspend foreclosure activity. JPMorgan Chase and GMAC have each curtailed foreclosures to review their processes and make sure employees properly prepared court documents.