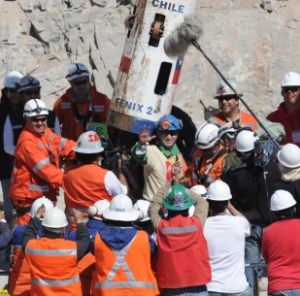 It was 69 days of utter solitary confinement capped by a single day of rapturous press and worldwide attention — and now, each of the 33 miners trapped in a collapsed mine shaft in Chile have been freed. Manuel Gonzalez, an emergency worker who was the first man to greet the entombed diggers, exited the underground chambers at 11:36 p.m., sealing off a rescue effort that took only 22 hours.
The New York Times reported that 10.6 million people watched the first miner, Florencio Avalos, emerge from the depths on either CNN, Fox News, or MSNBC.
The escaped miners may try to capitalize on their newly acquired limelight. The Telegraph reports that several lucrative money-making opportunities await the men now that they've had their faces spread around the globe. "Endorsement deals for everything from clothes to beer to a vitamin that acts as a sexual stimulant are reportedly in the works," the article wrote.
And the market for Chilean miner-related writing is not yet completely tapped: television appearances, books, and even movies are apparently on their way.