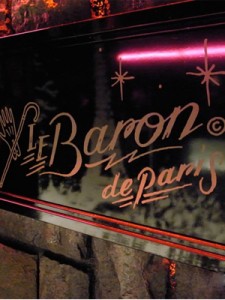 Since it was confirmed last March, the upcoming offshoot of Paris' ultra-hot Le Baron nightclub has generated a deafening amount of buzz among the trend-seeking set. Now, Eater has the dirt that Andre Saraiva's New York venture will be opening in late October or early November. The Paris club may be the most notoriously impossible-to-get-into spot in Europe, so if you're planning on stopping by the downtown mecca of hip when it opens, get ready to get denied.
Guest of a Guest walked by the Chinatown space that Le Baron will be inhabiting, and admitted that it "doesn't look like much yet." It will be at 32 Mulberry, a former Karaoke bar called Yello and, in the forties, an Italian restaurant called Moneta's. The capacity for the Paris Le Baron — which during this year's Paris fashion week hosted many a high-profile event — is no more than 150, and the New York equivalent should not be much bigger.
Saraiva — a nightlife entrepreneur and graffiti artist who once plastered much of Paris with his signature "Mr. A" tag — has already opened a Le Baron in Tokyo, and it's been smothered in the same blinding hype as its predecessor. There's no reason not to expect La Baron New York to be just as obsessed over if not more, so we recommend becoming very familiar with the block. Come November, you'll be standing around there for quite a while in a futile attempt to get in.
nfreeman@observer.com