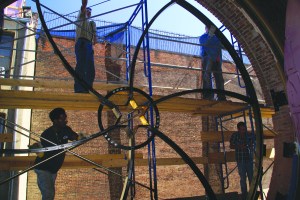 In the blink of an eye, it seems, the Lower East Side art gallery scene has sprung up. Virtually nonexistent as a cultural hot spot five years ago, the neighborhood now boasts several dozen galleries and a handful of museums and nonprofits. Think of the area as a lab for new art, or a venue for established art unconventionally displayed.
Lisa Cooley Fine Arts
Alex Olson
34 Orchard Street
Through Oct. 17
Watch this space. Last year, Lisa Cooley was the only New York art dealer on the Whitney Museum of American Art's selection committee for its spring auction, which showcase certain artists to the avid collecting group. This fall, she gives painter Alex Olson a solo show. The artist uses many coats of paint in addition to scratching and imprinting the canvases.
http://www.lisa-cooley.com
Eleven Rivington Gallery
TM Davy
11 Rivington Street
Through October 17
Bed linens become the canvas in TM Davy's first solo show, depicting his life through everyday events with his partner, Liam. One of the pieces, executed on a pillowcase, is an oil painting of a man resting his head on a pillow reading a book. Portraits, domestic scenes, still life and garden paintings are also featured in the show.
http://www.elevenrivington.com
Conflux Festival
Oct. 8-10
On the streets of the East Village this weekend, flags reading "X" will mark the spots where Conflux Festival events are taking place. Now in its seventh year, this festival mixes art and technology, and 75 games, artworks and installations that meet the theme will dot the street. Dennis Crowley, the founder of Foursquare, will lead a discussion group, and urban explorer Steve Duncan will give the keynote address. Indoor events take place at N.Y.U.'s Barney Building.
http://confluxfestival.org
Collette Blanchard Gallery
Paul Mullins
26 Clinton Street
Through Oct. 24
Canines, rain boots and football pants have little in common, but Paul Mullins uses these subjects for his exhibit at Collette Blanchard, one of the neighborhood's youngest galleries at just under two years old. "If Its All the Same T'You," features oil paintings by Mr. Mullins, whose work has shown at both the Walker Arts Center and the Corcoran. In New York, he has shown work at the Gershwin Hotel, Cuchifritos and Hotel Gansevoort.
http://www.colletteblanchard.com
Angel Orensaz Foundation
172 Norfolk Street
Through Nov. 9
Born in Aragon, Spain, and a New Yorker for the past 25 years, artist Angel Orensanz opened a foundation a decade ago in an abandoned church on Norfolk Street. The space has since hosted performances by Laurie Anderson and Phillip Glass, among many others, and also hosts art exhibitions. This month, it shows work by the founding artist. Earlier this year, Mr. Orensanz dived into the Gulf to observe and document the damage there. The resulting images and artworks are on view here.
http://www.angelorensanz.org
The Museum at Eldridge St.
Kiki Smith-Deborah Gans Window
12 Eldridge Street
Sunday, Oct. 10
Out with the square and in with the circular is the attitude the Eldridge Street Synagogue has adopted for the finishing touches on a 24-year makeover. A new round stained-glass window by artist Kiki Smith and architect Deborah Gans will replace the plain rectangular windows above the pulpit. On Oct. 10, discussions with the production team will outline the creation and installation process. Some assembly required: The window is made from several hundred pieces of glass.
http://www.eldridgestreet.org
On Stellar Rays Gallery
JJ Peet
133 Orchard Street
Through Oct. 24
JJ Peet's second solo exhibit touches on the BP oil spill and America's wars in a multidimensional approach to art shows. Handcrafted panels are made from crushed ceramics and minerals, mixed with paint and displayed to portray the history of the surface. In addition to the paintings, the artist is also featuring ceramics and biweekly video screenings.
http://onstellarrays.com
New York Studio Gallery
aricoco
154 Stanton Street
Oct. 7 through Nov. 6
Tokyo-born artist Ari Tabei, who goes by the professional name "aricoco," performs pieces wearing, then stripping off, a cocoon of garments made of hundreds of buttons, fabric strips and eggshells. Call it "sculpted fabrics"–she does. The show, dubbed "Nest-Un-Settled," explores the primordial urge to nest.
http://www.nystudiogallery.com