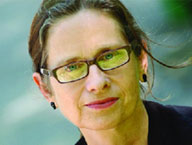 Lydia Davis' upcoming translation of Madame Bovary has been hotly anticipated in certain Flaubert-loving circles — Gustavarians, we like to imagine them calling themselves — and today the book received two nifty pieces of promotion that lend some insights into its creation.
In New York Magazine, Sam Anderson makes the case for why Ms. Davis' translation may become the definitive one. Her Swann's Way, as he says, is championed over others, and she seems to have thrown herself into this new translation. At the end, she tells Mr. Anderson, "I love doing this." Apparently, she didn't even like the book the first time she read it, most likely because she read it in English and in the New York piece, her disdain for previous translations only bubbles to the surface
But on the Paris Review blog, she pulls no punches in condemning the other translations. She slams Francis Steegmuller and Gerald Hopkins for "adding or omitting material with… self-confident and rather presumptuous writerly flair" and initially has a fondness for Joan Charles, but:
Eventually I came to see her as tight, humorless, thin as a rail. She must have lived through World War II in England, was perhaps in London during the Blitz, endured food rationing, etc. She was perhaps not very attractive, perhaps horsey? Bad teeth? Always in a cardigan sweater, putting shillings in the gas meter? Then again, this may be unfair-she may have been lovely
Blitz jokes are always a sure sign of frustration. But Ms. Davis, in her stories and translations is nothing if not precise, so it must be difficult when she finds beetles anthropomorphized without reason. At any rate, she's certainly made the case for her version being definitive.