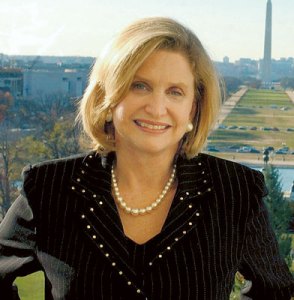 Carolyn Maloney had her second of three debates last night against Republican Ryan Brumberg and vigorously defended her support of the health care reform bill and emphasized her reputation as one of the hardest working members of Congress.
The debate, which also featured Conservative Party candidate Timothy Healy, drew lively yelps and applause from the audience of 80 or so people, as Maloney and Brumberg replicated the national dance between Democratic incumbents and Republican challengers: Maloney pronounced her role in passing credit card reform and 9/11 health care bills and Brumberg presented his plan to change the character and course of Washington.
"I blame President Bush and I blame President Obama. I blame all of Washington," said Brumberg, who, at 28, is making his first run at political office.
Yet unlike other young Republican candidates in this year's midterms, Brumberg has stayed relatively moderate. Throughout the debate, he stayed consistent with his campaign slogan, "Fiscally conservative. Socially liberal." One moment, he called for smaller government, less regulation and lower taxes. Then seconds later, he quoted Bill Clinton.
Brumberg, wearing his trademark slim fit navy blazer over a white shirt and red-white-and-blue striped tie, described specific policy changes needed to "restore prosperity to America." Giving school vouchers to parents, he argued, would improve the public school system by forcing them to compete with private schools. He also proposed that the retirement age should increase, but not for a few decades.
"For people in their 20's, 30's and 40's. Don't touch it for people in 50's, 60's and 70's," he said.
Maloney, dressed in a red blazer with leopard print collar and cuffs, spend much of the debate rattling off her recent accomplishments in office, including her role in passing TARP, financial reform and health care reform.
"I have a record to stand on," she said, before citing a July US News and World Report article that listed her as the most active member of Congress. At the time the article was published, Maloney had sponsored 70 bills during the current session.
Perhaps the most memorable moment of the debate occurred during the Q&A portion, when an audience member asked Maloney how she could justify supporting the health care reform bill, which the audience member called "an abomination."
"I am proud to have been a part of that," Maloney responded. "Every single President has tried to get health coverage for the 33 million Americans who are uninsured."
About half the audience applauded loudly, with a few shouts of "Yeah!" peppered in.
Then a member of audience shouted, "Nobody read it!"
"I read it," Maloney quickly shot back. "It was read and discussed for at least three to six days before the caucus."
For his rebuttal, Brumberg dragged a large white cardboard box from beneath the debate table. He pulled stacks and stacks of paper out of the box and placed them onto the table. The stack stood two to three feet tall. It was the health care reform bill.
"I tried to read it," he said. "It's not a quick read– I'll let that stand for itself."
From the same box, he picked up two packets of paper, each about the thickness of a college essay. They were the Social Security bill and the Civil Rights Act, he said. Then he pulled a small booklet from his breast pocket.
"The Constitution," he said.
The other half of the audience applauded loudly. Some shouted "Yeah!" A few stood up.
Brumberg is almost certainly going to lose on election day, though. District 14 is overwhelmingly Democrat and Maloney has won more than 80 percent of the votes in her past three general elections. Furthermore she has outspent Brumberg $860,000 to just under $157,000.
This campaign season has been financially grueling for Maloney. She has spent $3.2 million, which is about what she spent in her last three campaigns combined. It is the first time in at least a decade that Maloney spent more than she raised. This comes despite the fact that Maloney easily raised more money this year than she ever had before: $2.9 million compared to her previous high of $1.7 million in 2008. While Maloney sent a portion of her war chest to the Democratic Congressional Campaign Committee to support her struggling party members, much of her money went toward defeating Saujani, who ended up receiving less than a 20 percent of votes.
Afterward, Maloney was asked why she granted three face-to-faces with her longshot G.O.P. opponent, when Reshma Saujani only got one radio debate with the longtime incumbent.
"Well, we had a debate that was on the radio and now we're having more debates," she said.
When the question was asked again, Maloney repeated, "We had a debate."